The Village of Magdalena
Rich in History and Tradition. Where
old and new frontiers merge and art
and science meet. Come explore
our welcoming community.
Traditional and contemporary arts,
open studio tours, galleries, antiques, performance, music and Fiber Arts Trail.
Gardening, sustainable living and conservation workshops and tours.
Cowboy dances, round-ups,
trail riding and ropings!
Magdalena Ridge Observatory,
Kelly Mine and Ghost Town.
Biking, hiking, hunting and rock hounding.
Cafés, B&Bs, motels, RV park and camping.
GUIDED STAR PARTIES OCTOBER 14,15,16 and 17th
GALLERY & STUDIO TOUR
COWBOY ACTION SHOOTER
MULTI-CULTURAL CRAFTS
OLD TIMERS REUNION JULY 10-12
Stop by the Visitor's Center • 902 W. First St. on Rt. 60 Fri., Sat., & Sun. 9:00 AM - 4:00 PM • 575-854-3310
CLICK HERE for the April Star Party Gallery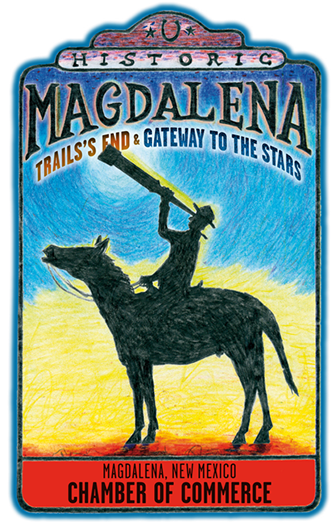 "They don't make places like this anymore"
34°07'01.2"N 107°14'48.9"W
Wednesday October 14th thru October 17th, 2015 Magdalena, New Mexico USA
Magdalena, New Mexico is an historic desert-mountain town in south-central New Mexico and a true Gateway
to the Stars! This Enchanted Skies Star Party will be October 14-17, 2015. It is geared for the more serious observer and/or astro-photograher. VIP tours of the nearby NRAO/Very Large Array and Magdalena Ridge Observatory are included with full registration.
Located at an elevation of 6,785' (2,068m), Magdalena is a genuine dark sky site with regular sky background
reading of 21.6-21.8 magnitudes per square arc second. This is arguably one of the darkest sites in the continental US, as well as one of the driest. There are many good observational reasons why the NRAO/Very Large Array and Magdalena Ridge Observatory are located nearby.
Space is Limited. Advanced online registration is recommended. Dry camping and RV parking at the dark sky site and discounted lodging are available. Limit-ed food is available at the dark sky site or dine in Magdalena.
For the full list of activities, hotel information, and tickets, go to
call Judy Stanley @ 505-515-5780,
This event is aimed for the more serious amateur astronomer, but is Open to All!
October 14-17 registration is $50 per adult for attending any or all nights. This includes the VIP tours to local observatories. A one-night option is ONLY available for Saturday October 17th with a registration of $15 per adult. For either registration, children 17 and under are FREE when accompanied by an adult ticket holder.
What to bring? Binoculars, telescopes, lawn chairs, flashlights, warm clothes, a sense of wonder and a desire to explore the Universe!
Hosted by the Magdalena Chamber of Commerce, in collaboration with the Magdalena Astronomical Society, the New Mexico Tech Astronomy Club, and the New Mexico Department of Tourism and Socorro County
Chamber of Commerce. Sponsors include Magdalena Lodgers Tax, City of Socorro, Socorro County Lodgers Tax and our local business partners.
Click here for New Mexico True, 14 Stunning Places to Visit. Magdalena Star Parties is on the list!